Change the Right Way: Change Management: What It Is and Why It's Important
TRG Search Experts
Managing change has always been tough, however, it has been especially difficult these past few years. Considering pandemic adjustments, lay-offs, accepting new positions, remote workforce transitions, returning to the office and adapting to inflation have certainly increased our rate of change. Moreover, the constant modernization of technology and workforce standards forces companies and employees to respond and reshape their practices.  
As organizations restructure their labor force to meet new goals, priorities are addressed and reassigned, responsibilities are delegated differently, and change is plentiful. With employees facing a wide variety of changes at a constant rate, the importance of managing change has become pertinent. It isn't easy to change attitudes or relationships, much less entire organizations.  
Surprise, Surprise: Most People Don't Like Change
All organizations are made up of people. And people's resistance is one of the biggest barriers to change. Research shows that only 38% of people like to leave their comfort zone. When these people are presented with a change, they experience positive interpretations of the change resulting in positive emotional reactions. The other 62%, however, immediately feel fear and discomfort. This is where change management becomes advantageous.  
Jon Burkhart, President of Banking at The Richmond Group USA states: "In my experience, resistance to change often stems from a person not understanding the personal benefit of what making a change would bring them. Change is more easily managed when you can help someone understand that the positive long-term impacts vastly outweigh the immediate inconveniences." 
The Change Management Flow and Process 
Change management is meant to mitigate risk and give a methodical, winning approach to implementing change while helping people accept and adapt along the way. It is a systematic approach that includes dealing with the transition or transformation of organizational goals, core values, processes or technologies.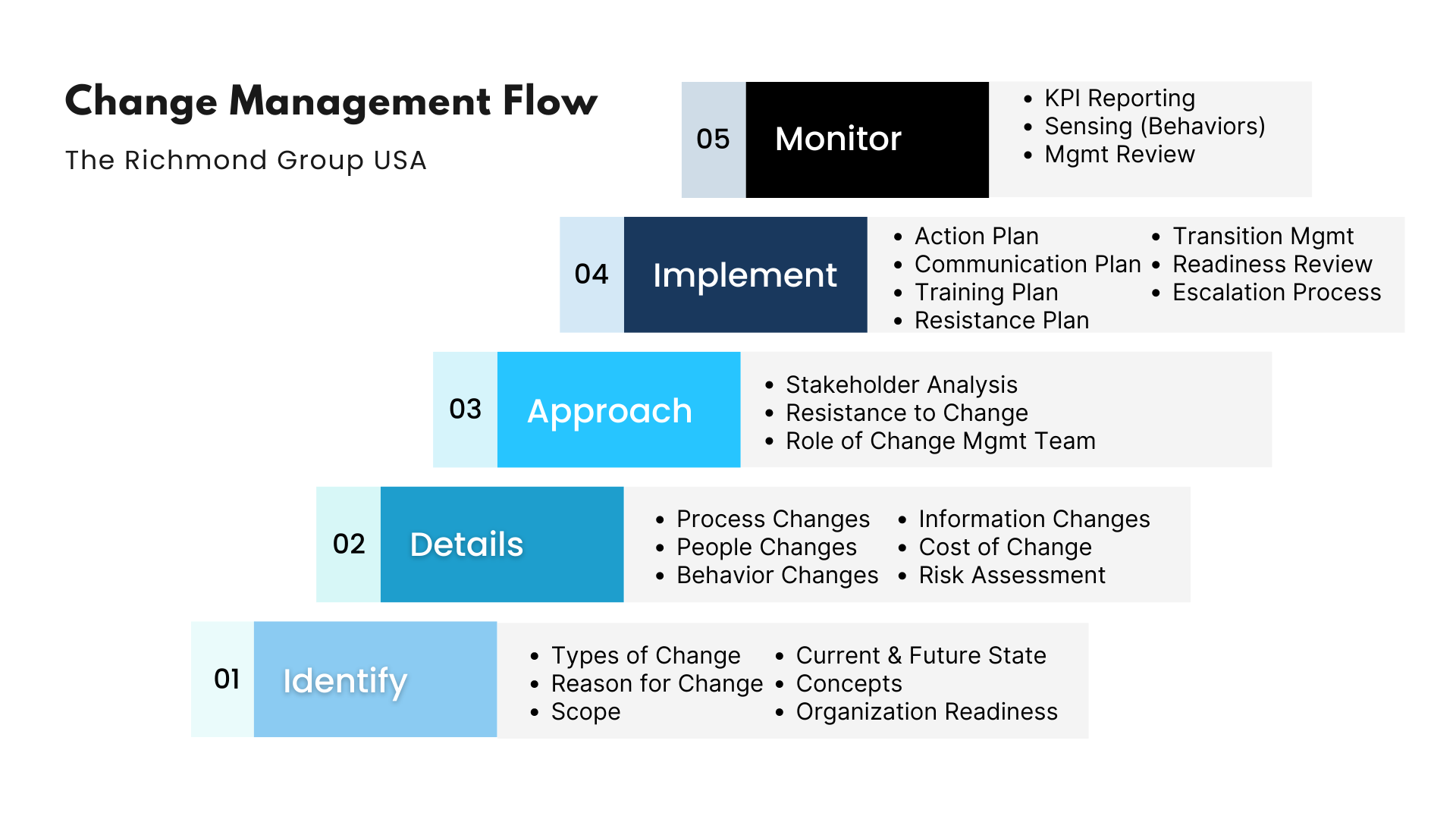 Download PDF: Change Management Flow
Here's How You Can Start Implementing Change Management At Your Organization 
One way to clarify the vision is to go through the 4P's of change. By asking yourself these questions, you can feel confident and prepared. 
Purpose: What is the reason for/background to this change? What are the benefits? 
Picture: What will things look like after the change? What would be the risk of not doing it (the "burning platform")? Restate the benefits. 
Part: What's my part in the change? What do you expect me to do? 
Plan: What's the timeline? What are the key milestones? How is it all going to work? 
Change Management Process Flow 
(WalkMe, Change Management Blog, The Ultimate Change Management Process Flow) 
PART 1: CHANGE PROPOSAL | Identify the change 
Begin with a needs assessment and the 4 P's of change. You must support your change proposal with evidence. 
↓ 
OUTLINE THE DETAILS 
Who is this change affecting? What levels will the change impact? IT systems? Organizational hierarchy? Departmental processes? What are the costs and implications? What do you need from the organization to successfully put this change in place? 
↓ 
PART 2: TRIALLING & IMPLEMENTING CHANGE 
Contract and engage for change 
STEP 1: Establish a sense of urgency 
Remember, people are naturally resistant to change. What are the benefits? 
↓ 
STEP 2: Build guiding coalition 
You need support for the change at all levels of the organization. 
↓ 
STEP 3: ESTABLISH THE APPROACH | Create the vision and strategy 
Use the work you did on the 4 P's of change. 
↓ 
STEP 4: Communicate the change vision 
An army of volunteers can help you communicate the change vision to stakeholders. 
↓ 
(B. CHANGE: Deliver and make change stick) 
STEP 5: IMPLEMENT | Empower or enable action 
Put plans in place for every aspect of the change, including communications, training, and review. 
Also, you must ensure that the organization is prepared for the change. There are no barriers to the change, nor conflicting behaviors or procedures. 
↓ 
STEP 6: Create short-term wins 
Remember to celebrate success to maintain high motivation. 
↓ 
STEP 7: MONITOR | Consolidate gains 
Measure, monitor, evaluate. This is how you can be sure of success. 
Monitoring and evaluation will enable you to anchor new positive behaviors into culture. You'll also be able to catch old habits before they threaten the entire change process. 
↓ 
STEP 8: Anchor into culture 
Don't rush into this step. It takes time to form new habits. Only when the old habits seem out of place can the new behaviors become ingrained in culture. 
To Wrap it Up 
Try sharing this flowchart with your organization, so everyone feels included in the process. Establishing a game plan for change allows easier management and continuation of the process resulting in a better environment for everyone.  
At the end of the deliberation, a celebratory beer or two couldn't hurt the process, work hard and enjoy your company evolving. Happy, changing.